"Another great example of free press can be found in the Euphrat Museum of Art at De Anza College where I am a work-study intern. They have all kinds of art shows that reflect parts of American life and history that aren't often mentioned in the regular media… Community art museums like the Euphrat Museum are very important to have because here artists can express themselves freely and sometimes reflect another side of life that isn't often mentioned in newspapers or on commercial television. This is an important part of democracy — the freedom to show, see, and talk about all kinds of artwork, ideas, and events."





De Anza student

Trang Tran

, in a political science essay






Summer 2011



Come Together For Art
A Special Benefit Auction for the Euphrat Museum of Art
Auction preview exhibition: June 22 and 23 (11-6pm)



FRIDAY JUNE 24, 2011




6pm Reception

with hors d' oeuvres, live music & silent auction


7pm Live Auction


Euphrat Museum of Art at De Anza College
Donation: $30



First of a series of auction/exhibitions.

Featuring a recent painting by

Paul Hau (Hau Bei Ren), Qin Dynasty artwork

(fan paintings, scrolls, and embroideries) from the collection of

Connie Young Yu

, and

art from other accomplished contemporary artists and treasured collections

.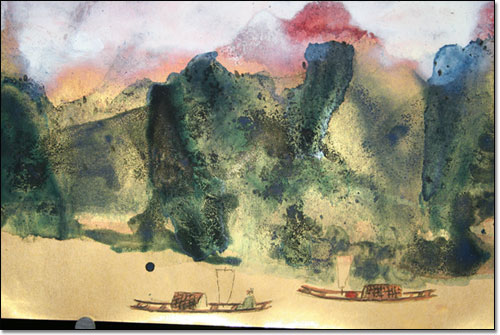 Painting by renowned artist Paul Hau:

Colorful Clouds over the River Gorge

(detail). Signed and sealed by Hau Pei Jen, dated May 2011 at Old Apricot Villa. 21"x40". Donated by Paul Hau (Hau Pei Jen) for Euphrat auction.



Sponsors include:

Silicon Valley Asian Art Center, Chinese Historical Society of America, American Society for the Advancement of Chinese Art.





Winter/Spring 2011



De Anza College Student Art Show
May 16 - June 14, 2011
Closed Memorial Day, May 30
Open Saturdays June 4 and June 11. From 11 to 3 pm. With special presentations by members from the Museum Studies class and some of the artists in the exhibition.


Reception:

Tuesday, June 7, 2011, 5:30-7:30pm. Awards will be presented during this reception.

Check museum hours here.

With wide diversity in media and approach, this exhibition features paintings, drawings, mixed-media works, photography, graphic design, sculpture, ceramics, and more created by students at De Anza College. The exhibition is presented in conjunction with the Gallery and Exhibition Design class.

For more details, visit our Student Shows page.





Come On Down!


Come On Down! is a multi-purpose project space that includes a collaborative communal area for connecting visual and oral history, and an experimental exhibition area for the results of interactive projects. Part of this campus/community space will feature frequently changing artwork. Spring 2011 presentations include:




ABOUT THE EUPHRAT MUSEUM OF ART


For over 30 years, the Euphrat has presented one-of-a-kind exhibitions, publications, and events reflecting the diverse heritage of our area. Our mission is to provide a venue and resource for visual ideas and communication that stimulate creativity and an interest in art among audiences of all ages. We provide for a spectrum of interactions with a large and diversified public, working on and off campus with specialists in all disciplines. The Museum has an outstanding Arts & Schools Program, primarily in Cupertino and Sunnyvale, at various school and community sites. Each year the Museum creates public art projects involving elementary and middle school students, De Anza student interns, and Euphrat artist/teachers.



The Euphrat is funded in part by De Anza College, De Anza Associated Student Body, City of Cupertino, City of Sunnyvale, Arts Council Silicon Valley. It is also supported by an Applied Materials Excellence in the Arts grant in partnership with Arts Council Silicon Valley, and by the Euphrat Museum Advisory Council and Friends of the Euphrat Museum.



For information, call:


Jan Rindfleisch


Director of the Euphrat Museum of Art
E-mail: rindfleischjanet@fhda.edu
(408)864-8836